Superdelay: From Digital Delay v1 to Reverse Mode C
August 29 2023
Our friends at Chase Bliss recently announced a new initiative: Small Batch Bliss. The first pedal in this series is the Reverse Mode C, designed in collaboration with Empress Effects and inspired by our original Superdelay.
Early Years
Thinking about the Superdelay brings back a lot of memories. Its DNA is infused in almost all of the pedals that came after it, extending from the founding of the company in 2005 through this new collaboration in 2023. When I was sketching out my initial business plan, I dreamt of three products. Among them was the Empress Digital Delay, which evolved into the Empress Superdelay that launched in 2008.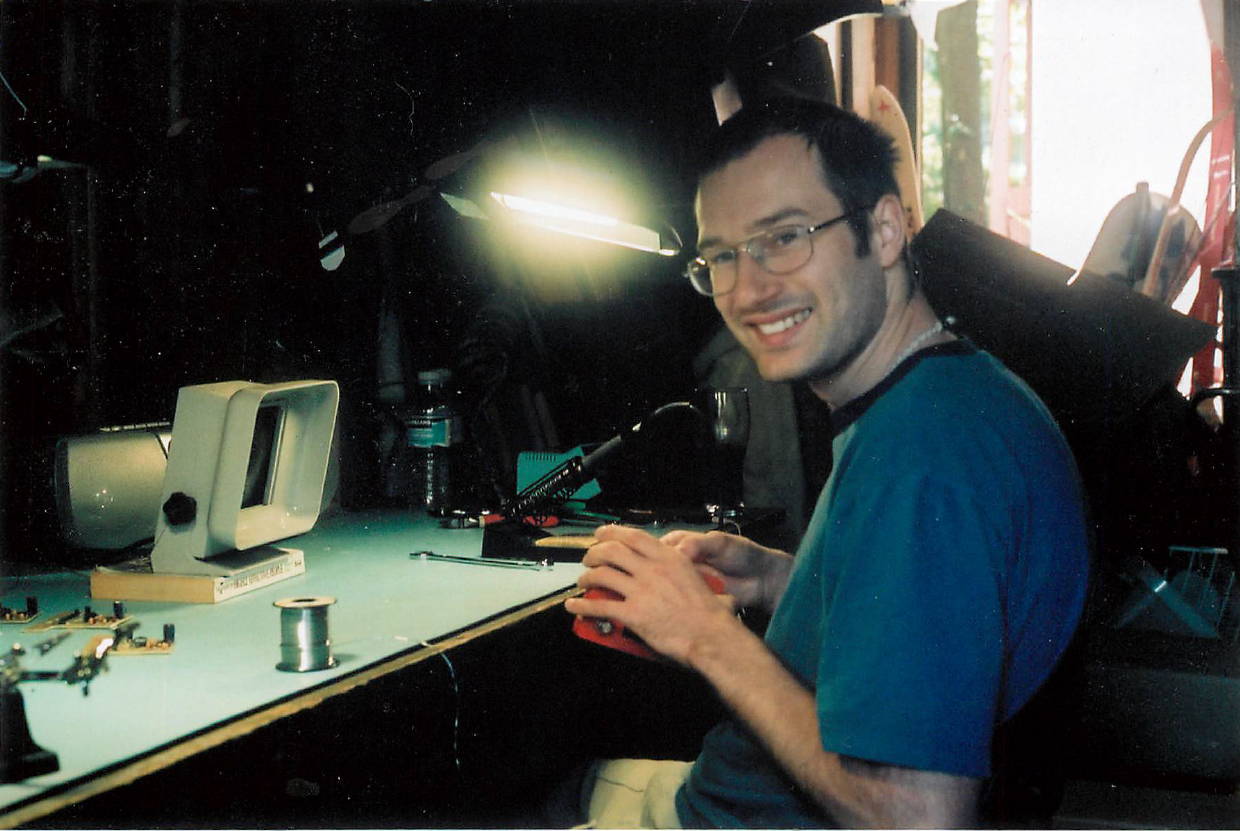 Early Days: Making Empress Tremolos in my parents' garage
For about a year, I developed the Superdelay on my own, but it was a challenge to balance that with building tremolos and running a business. I hired my good friend Jay Fee, and together we finished the design. The pedal featured 2.8 seconds of delay time, tap tempo with subdivisions, expression pedal support, 8 preset locations, and 8 modes with 3 submodes each.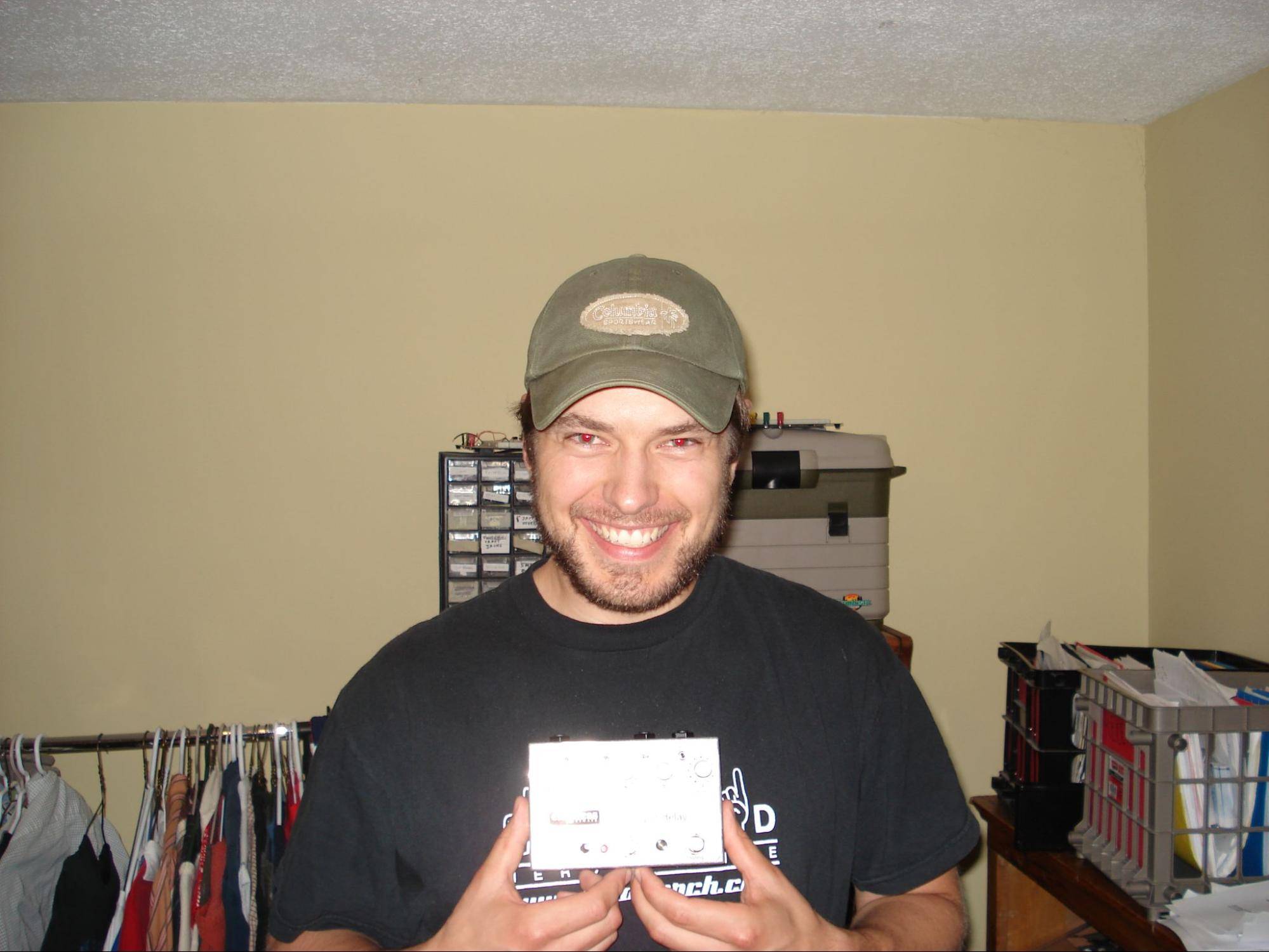 My bud Jay Fee, co-designer of the Superdelay (and many other Empress pedals)

The modes and submodes covered crisp digital repeats, warm analog-style echoes, and more, but submode C in the Reverse category - Octave Tap - was the sound that really grabbed players' attention. Repeats were played backwards, twice as fast as the dry signal to sound an octave higher, for unique textures that shimmered and fluttered.
Big in Japan
A key early fan of the pedal was Takeo Yamamoto, an importer who approached me in 2008 about distributing our pedals in Japan:
Dear Empress Effects
 
I found your website just before I was really falling in love with the superdelay and tap tremolo!
We really would like to import your products to Japan, and introduce Empress Effects to the Japanese Music gear market.
 
I am writing this email from my home now. I really did not want to wait to contact you because your products are very cool and perfect to me.
Best regards from Japan
Takeo Yamamoto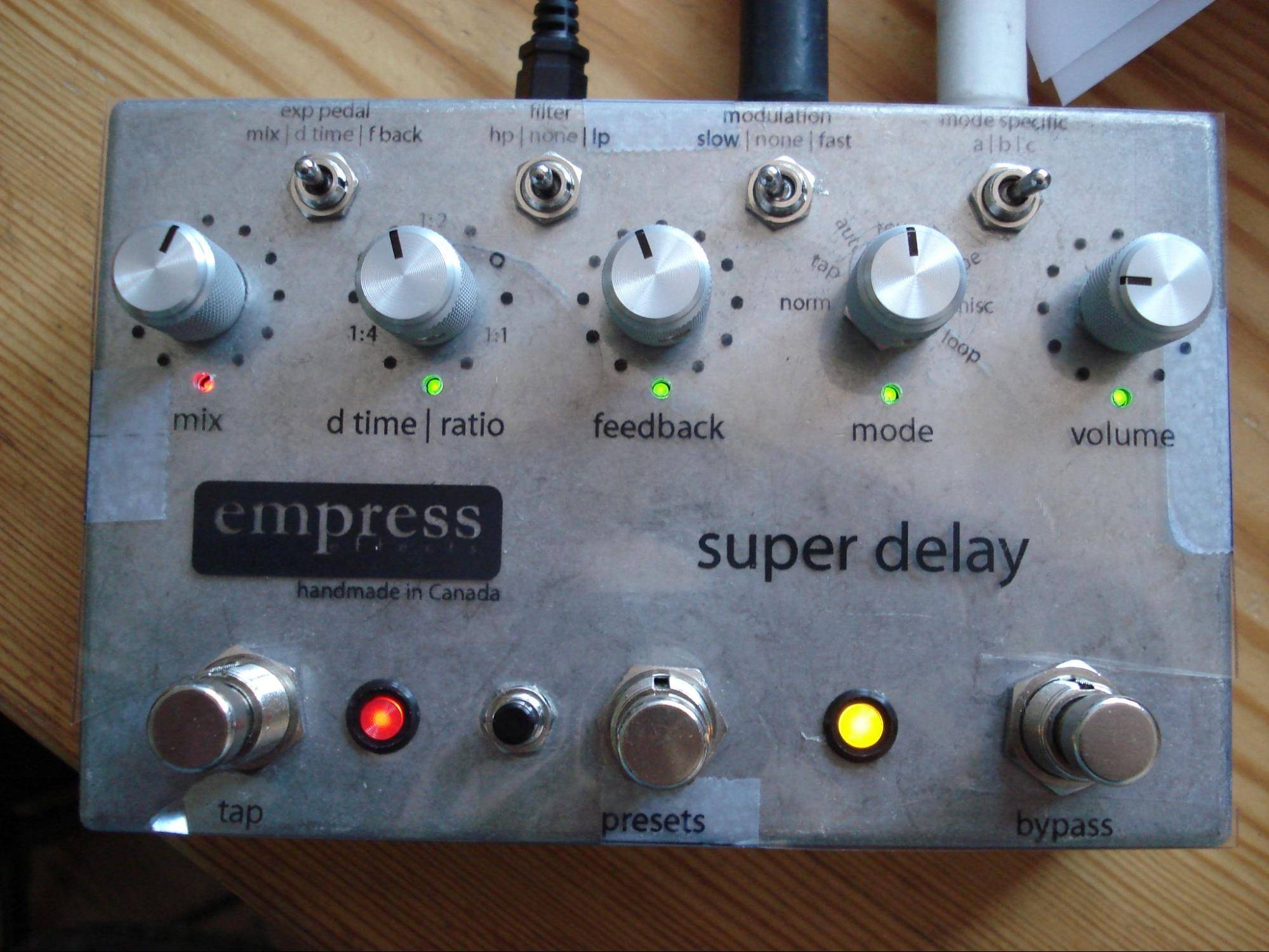 An early Superdelay prototype

Fifteen years later, Takeo still distributes our pedals in Japan, and I recently asked him about his recollections of the Superdelay:
I will never forget that night at my house when I was looking at a page on the internet introducing guitar pedals and found the Empress Effects "superdelay" there.
There were many videos there, and while I was amazed by its many functions, I was especially excited by the fourth mode, the "Reverse mode"!
After checking out that video again and again, I couldn't wait and immediately wrote an email to Empress Effects from my home. (Without the permission of my boss at the time!)
That was the beginning of me starting my real guitar pedal business. It changed my life.
I really love the people at Empress Effects and what they are creating!
Cheers!
Early design notes for the "Digital Delay v1"

The Beginning of a Long Friendship
Another notable fan of the Reverse mode was Joel Korte. At the time, he was working as a Design Engineer for renowned pedal brand Z.Vex Effects, developing pedals like the Instant Lo-Fi Junky. Its lush, ethereal modulation hinted at Joel's later work as the founder of Chase Bliss.
In his post Octave Tap - The story of Reverse Mode C, Joel recounts:
I told Steve Bragg that his Superdelay pedal was heavily influential to me when I was starting Chase Bliss. There was this one particular mode that was just so adventurous – I had never heard anything like it. I remember the first time I played it so clearly and it was that feeling that I wanted my pedals to give people.
We met for the first time at the 2012 NAMM show and instantly hit it off: 
Hey Joel,
It was nice to meet you at NAMM. I saw that you designed the instant lo-fi junky, that's very cool! Well you're doing well. Maybe next year we could catch lunch or something. Do you design things other than guitar pedals?

Steve 
—
Hi Steve,
Great to hear from you and to get a chance to talk for a moment at NAMM. Like I said, I've got a deep appreciation for your guys' stuff from both a musician's and engineer's standpoint. Thanks for the kudos regarding the Instant Lo-Fi, I'm proud of that thing as it is really the first product where I did most of the work since starting here. Absolutely we should grab lunch next year.
I've dabbled in building some tube amps and vintage recording equipment, but I'd say I'm still relatively green as far as my design career is concerned, pedals or otherwise. What about you? Do you design stuff outside of the pedal realm?
Lastly, how much will it run me to take a VMSD off your hands?
Talk soon,
Joel
Then we did that thing that pedal builders always do: we traded. I got a custom-painted Instant Lo-Fi Junky out of the deal, and Joel got a Vintage Modified Superdelay. The first thing I did with the Lo-Fi Junky was open it up and admire the design. Then I listened. The sound was like nothing I'd heard before. I knew this guy was good!
Over the coming years, we kept in regular contact. We helped each other out when things felt overwhelming (small business owners will know this is pretty much a constant feeling). We occasionally discussed how we might work together someday.
Hey Steve,

I'm getting ready to launch my first product from my new company, Chase Bliss Audio, and I decided to make them compatible with your midibox product.
Is that cool if I add a link to it on my website?

Talk to you soon!
Joel
—
Hells ya Joel! That's so fucking awesome!
Hope you do great with your company. Damn, more awesome competition to compete with :-)
I'm clicking all over your website and just getting "coming soon!". I want info man!

Talk to you soon,
Steve
Joel also introduced me to Scott Harper, better known to everyone as Knobs.
Hey Steve,
I started working with this guy, Scott Harper, on demos. He goes by KNOBS. He's also a fellow Canadian.
In my opinion, he is going places with demos that nobody else is. I'm a huge, huge fan of his work, and want to help him get things rolling a bit if I can. I think that some of your guys' pedals would make for some absolutely incredible KNOBS demos - I know he's a fan of your guys stuff too, which is no surprise.
Talk to you soon,
Joel
Reverse Mode C
The idea for Reverse Mode C took root when Chase Bliss, OBNE, and Empress attended the Tokyo Pedal Summit in 2022, and somebody - I think it was Takeo - mentioned their fondness for the Octave Tap submode. Since Joel loved that mode as well, it seemed like a natural foundation for a collaboration. I gave Scott a Superdelay a few months later, and Scott emailed me in May with an idea of what would become the Reverse Mode C. 
Weekly Zoom meetings began on June 1st between Joel, Scott, myself, and Tom Majeski - the brilliant mind behind the Generation Loss - who would do the development. Collaborating with Chase Bliss was such a different experience from working on our own designs. I was hands-off with the code, which has its pros and cons. I could ask for features without any idea of how hard they would be to implement. Tom was such a wizard of programming that he'd usually have a feature working the day that we suggested it. I was really surprised by how fast the project came together. Employees at both Empress and Chase Bliss were constantly providing feedback on new features, and within a matter of weeks, the new pedal was ready to be announced to the world.
15 Years in the Making
The Superdelay was our top-selling pedal for years, it helped us expand into new markets around the world, it fostered connections with key figures like Joel and Knobs, and now it has inspired the Reverse Mode C. We're honoured to have collaborated with Chase Bliss on the first pedal in the Small Batch Bliss series, and we hope players love this fresh take on one of Empress' signature sounds.
Pre-orders for the Reverse Mode C are open through August 31 at the Chase Bliss website.
Thanks for reading,
Steve
Owner/Designer, Empress Effects Inc